THE PLAYERS
2000-2001
TEAM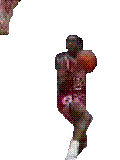 Abe Frieden – Guard
Our only returning starter for this year, Abe is a scoring threat that is dangerous from the outside and had a great ball fake on the inside.Extended sickness took him out for two games last year, but a healthy Abe should be a team leader both in statistics and in the locker room this year.
<![if !supportEmptyParas]><![endif]>
Justin Wheeler – Guard
A key reserve for the team last year, Justin may settle into the point guard role this year.He is a quick defender and should wreak havoc on our presses..If his shot develops, he will become a devastating player.
<![if !supportEmptyParas]><![endif]>
Chad Coffman – Guard
Chad saw some varsity time last year, but he was a key member of our successful JV program.Chad is developing into a fair point guard, and his shot is close to form perfect.If Chad works on his game in the off-season, we may have the jump shot we have been lacking in our offense.
<![if !supportEmptyParas]><![endif]>
Andrew Adams – Forward
Andrew did some nice things for the C-Team last year, scoring a few points for the team and having no problems with turnovers.Andrew could step into a key role on the JV team this year.
<![if !supportEmptyParas]><![endif]>
Mathew Adams – Guard
Mathew may have been our most improved player over the course of last season.He came in a bit slow and out of shape, but by midseason, Matt was making great use of the backboard and scoring some points for us.If he continues to work on his shot and defense, good things may develop!
<![if !supportEmptyParas]><![endif]>
Matt Rand – Guard
Matt is a smart player that knows where to be on the floor.His shot is still inconsistent, but he was making great progress with that part of his game.It was his tenacious defense that made the coaches notice.He was a good defender and was able to chip in a few points on the JV squad.With work, Matt may be a key member of our varsity team this year.
Jeremiah Stumpff – Guard
Jeremiah started out this past season really well, but slipped into some turnover trouble.By mid-season however, his dribble returned and he was able to get his confidence back.Jeremiah is a hard worker that can make things happen on offense.With improved defense, Jeremiah could be another JV player that makes the step to varsity.
<![if !supportEmptyParas]><![endif]>
James Howard – Guard
James is another player that showed great improvement this season.James has a good feel for the basket and is aggressive with his ball fakes from the post.Once the footwork is mastered, James may be a guard that is able to break into the post and make things happen.
<![if !supportEmptyParas]><![endif]>
Zeke Thompson – Guard/Forward
A bit short to be in the post, Zeke is a speed merchant that makes things happen on our presses.Zeke started out last season seeing some C-Team time, but by tournament time he was coming of the bench for some varsity – style defense.He is an aggressive player that can be a potent weapon for us this year if he works on his offensive game.
<![if !supportEmptyParas]><![endif]>
Brett Beasley - Guard
Brett is a hard working player that plays smart defense.He played post on the C – Team this year and may continue that role next year on JV or Varsity, depending on how much work is done in the off-season.Brett knows where to be on the floor, and once he gets some confidence and aggression in his veins, he will be a force to be reckoned with for offenses and for rebounds.
<![if !supportEmptyParas]><![endif]>
Zach Clayton – Guard
Zach was our C-Team point guard last year.His turnovers were a bit high, but Zach had a lot of hustle and was able to be a team leader in steals to make up for that.Zach never met a shot he didn't like, and if a few more of those shots get in the hole, a spot may open up on the varsity floor.
<![if !supportEmptyParas]><![endif]>
Cory Sunday – Guard
Cory was a role player for us last season on the C –Team.He had a bit of a slow start, making a few turnovers in the early going, but with practice many of those problems went away.Cory's offseason focus should key in on developing confidence in his dribble so defenders aren't able to dominate his game.
<![if !supportEmptyParas]><![endif]>
Josh Leach – Guard/Forward
Josh played some guard and some post for us last season on the C-Team.He took some time to get a feel for the game because of his late start with the team.Once his football season ended, he steadily developed into a solid role player able to get some boards for us.With continued effort, Josh could play important roles for us.
<![if !supportEmptyParas]><![endif]>
Tanner Nitcher – Guard
The only sixth grader to see some varsity time last year, Tanner made steady improvement all season.Though his skills are still raw, Tanner led the entire team in steals and was the leading scorer in several JV games and all C-Team games that he played in.With continued effort, Tanner may follow in Abe Frieden's footsteps and skip a 7th grade JV year and go straight to varsity.
<![if !supportEmptyParas]><![endif]>
Zac Zintz – Gene Greer
Zac and Gene were our team managers this past year, and so we are hoping that this experience will allow them to provide the same leadership to the C-Team that Zach Clayton and Tanner Nitcher were able to give us this year. Both played in the instructional league put on by the high school, and that experience will surely help as well.